Digital printing on glass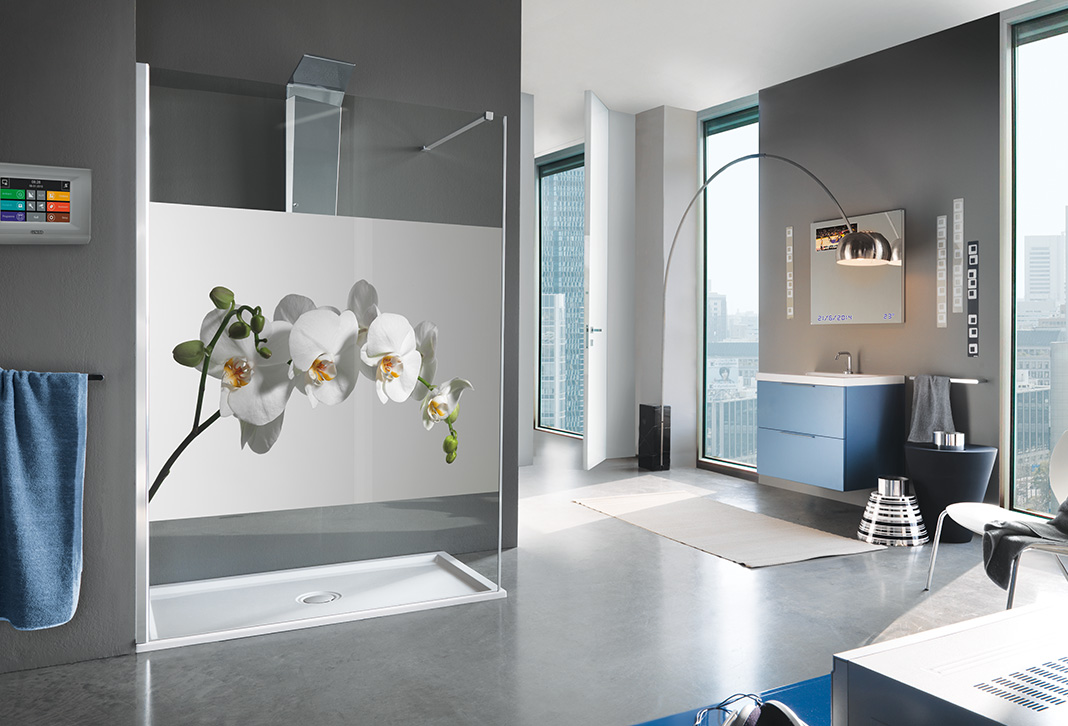 Digital printing on glass
The new technologies of digital printing on glass include advanced techniques that make it possible to print images and photographs, designs and writing from digital supports onto sheets of tempered glass. Moreover, the printing is high-definition and in a four-colour process: the 4-colour ceramic ink-jet in a single application guarantees excellent resolution of the image on the glass surface as well as maximum duration over time, recreating infinite shades.
In particular, digital printing consists of using special ceramic paints that, once vetrified during the tempering process, guarantee that the quality of the image impressed on the glass will remain unaltered over time. Up until recently, the silk screening process has been the only way to decorate glass with coloured paints. Silk screening requires the use of specific frames to apply the paint and reproduce the image. Moreover, it is possible to apply only one colour at a time, making it impossible to enhance the image with chromatic shadings. Instead, with digital printing, the images, photographs, and drawings are processed by a dedicated software installed in the printer.
This software faithfully reproduces the subject while using four colours in a single printing step, thereby guaranteeing high quality definition, shades of colours, and contrasts in transparency. These are images with an intensity, colour, and appearance that will not fade over time or due to daily contact with water in the shower.
CATALOG IMAGES
Digital printing is available in Grand Polaris, Open Xclusive, Open Shot, Open Side, Open Screen, New Cee Art. For printing in other products,